David Miller (Founder)
Dave started coming to Peru in January 1992 and fell in love with the country. Since, he's made an effort to come for a visit every two years with his late wife, Vickie. As an avid jogger, Dave enjoys running early in the mornings. He was doing so when he saw small children eating from the garbage. That motivated him to try to help these children.
Before starting the orphanage his pastor preached on James 1:27, and that inspired him even more to start the orphanage in Peru. To get the funds, he sold his old business, and then followed the procedures to build Hogar de Esperanza. He was fortunate to meet some honest businessmen in Peru, and that helped him get things moving. Later on he formed a nonprofit organization in Peru and in the United States called "Saving Street Children". The Peruvian government was very useful to help with the complex regulations. The orphanage opened its doors to the first orphan in February 2002. Since then, we have expanded the programs at the orphanage, built another building and social projects have added to our ministry.
His late wife, Vickie, was a great help to drive the orphanage. She went to be with the Lord in November 2007, but her love for God and education live in the hearts of all workers and children of Hogar de Esperanza. Thanks for your continued support.
The Board Members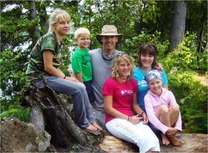 Steve Twinem
After several years pastoring in his native Canada, Steve and his family sensed the Lord's leading to serve in Peru where they began to serve in 2001. He is currently one of the elders at Centro Biblico Trujillo and joined the Hogar de Esepranza board in 2011. He and his wife, Lisa, are deeply committed to raising their children in love and fear of the Lord. Currently, two of their older daughters, Kalena and Larissa, have begun their university studies in pursuit of more effective Christian service. Their younger ones, Emma and Nate continue to be homeschooled and are very active serving others along with their parents. Steve is really passionate about teaching and preaching God's Word and would love to find more free time to spend doing his hobby, woodworking! Write Steve at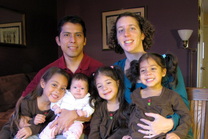 Pablo Cenepo-Torres
After completing his seminary training and enjoying three years serving in a Korean-American church in the DC area, he and his wife Sarah decided to return to Peru in 2002 to serve alongside dear missionaries Bert and Colleen Elliot. Since that time, they have been supporting the work at Centro Biblico Trujillo, where he serves as one of the elders. Before joining the orphanage board, Pablo enjoyed serving the orphanage with missions' teams periodically coming to offer their assistance. He and his wife Sarah have four daughters, Abigail, Hannah, Gabriela and Selah. All four of them attend "Four Arrows Christian School," a fancy name to identify their homeschooling program. You can read more about this family at servingperu.com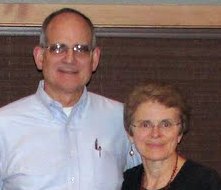 Marilyn Dryden
She's been married to her best friend Jack Dryden for the last 39 years. They have two sons and two daughters by marriage whom love God and serve Him faithfully. Marilyn started teaching Sunday school when she was twelve years of age. Her love for the Lord and His dear children led her to pursue formal studies in Child Development and subsequent graduate work in recovery from early behavior problems and resiliency in children at risk. Currently, she keeps an active role in Sunday School Ministries and adult teaching at her local church in Vancouver, WA. In the Lord's divine providence, she and her family connected with the people of Peru through lifelong friendship with late missionaries Bert and Colleen Elliot. Marilyn enjoys her daily walks in the brisk morning hours to talk to the Lord.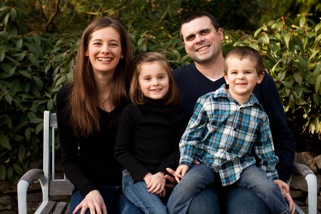 Jenae Dryden
Jenae is married to Marilyn's son, John. Jenae works part-time as a Speech-Language Pathologist at an elementary school in Washington state, and full-time as a wife to John and mom to Ellie and Jack. She is passionate about children and obeying God's command to do justice, love mercy, and walk humbly with God (Micah 6:8). She dreams of solutions to global poverty and oppression while folding laundry, making peanut butter and jelly sandwiches, and waiting at the bus stop. Although she has known of and prayed for Hogar de Esperanza for many years, she only first visited the orphanage in the summer of 2012 and felt God's call to support and serve in whatever capacity was most needed. She is thrilled to be working alongside her mother-in-law, Marilyn, to facilitate North American connections with the orphanage.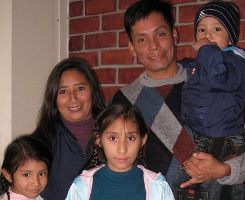 Alex Cenepo
Alex joined the Hogar de Esperanza family nearly a decade ago in order to put his agricultural engineering background into practice. For a long season he worked with some of our children and was known as the "alfalfa boss." Later he served as the project manager and then became the administrator and currently serves as the orphanage director. In his long tenure serving the orphanage he has become a literal "jack of all trades." He and his wife Nancy and three children Adriana, Barbara and Nehemias are very active in their local church. Whenever Alex has a free time he loves playing soccer with his kids.
---
From the first time you meet the children at Hogar de Esperanza, your heart will be knit together in love for this ministry." — John and Anne Lloyd, USA
---